The Kläger brand compressed air sprayers have followed the refill trend ever since the company was founded in 1949. We have always strived to make our products sustainable, which is why we use only high-quality materials that ensure the compressed air sprayers are reliable, robust and durable reusable products. In other words, they are professional spraying tools that can be refilled over and over again, making them a sustainable alternative to one-use technical sprays and disposable trigger sprayers.
Spare parts
When a product is used in the professional sphere, it is not uncommon for parts to break. However, we have a sustainable, convenient solution for our customers! There is no need to dispose of a broken pressure sprayer; instead, it can simply be repaired using our wide range of spare parts and maintenance kits. Contact our product experts for more detailed information.
Precise application as a spray
The right nozzle for every application – different spray angles and infinitely adjustable nozzles with a variety of spray patterns allow your chemical to be applied to the target object without wasting liquid. The spray pattern can be adjusted individually, depending on the application. You will find further information on the relevant product pages.
Recycled plastics
Any waste products are ground into new synthetic granules during our internal manufacturing procedure, either directly on the machine or in the central materials management department. A controlled amount is then used for the manufacture of new bottles and components. Upon request, the fill container of the pressure sprayer is available in a 100% biodegradable version, which is made only of renewable raw materials.
step 1 | Empty bottle
We start with the empty bottle, which is ready to be filled with your chemical. Please ensure that the sprayer has the correct resistance. It is important that the selected liquid and the type of compressed air sprayer are completely compatible. Our guiding principle here is: the right compressed air sprayer for the right application!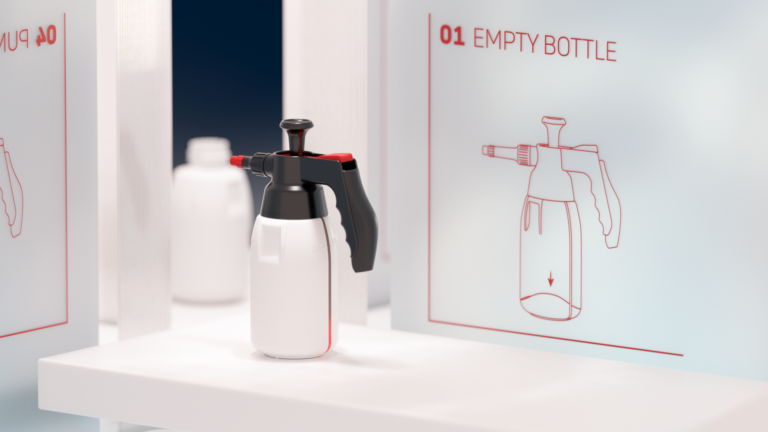 step 2 | Open bottle
The compressed air sprayer is now ready for use with your liquid. The spray head can simply be screwed off the screw thread of the bottle.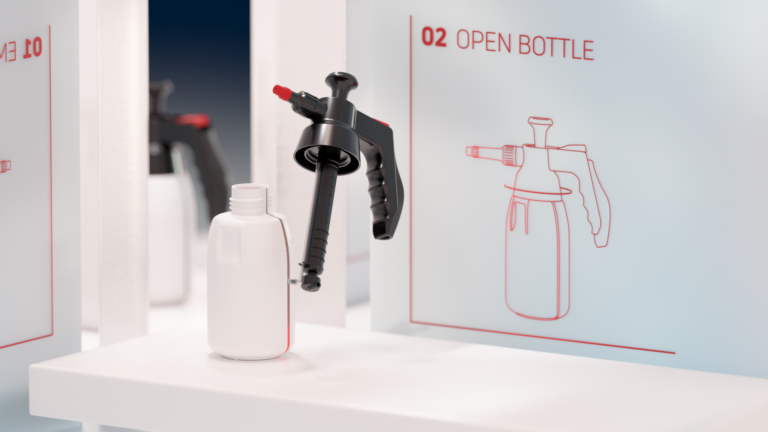 step 3 | Refill with liquid
Subsequently, the bottle is filled with the chosen liquid. Please refer to the scale on the bottle for the maximum recommended filling volume, leaving an air buffer to allow the build-up of pressure. The key principle remains: different chemicals should only be used in combination with the recommended sprayer model!
Our Chemical Application Center is there to advise you on all matters concerning resistance. Please also refer to our list of resistances and pH scale.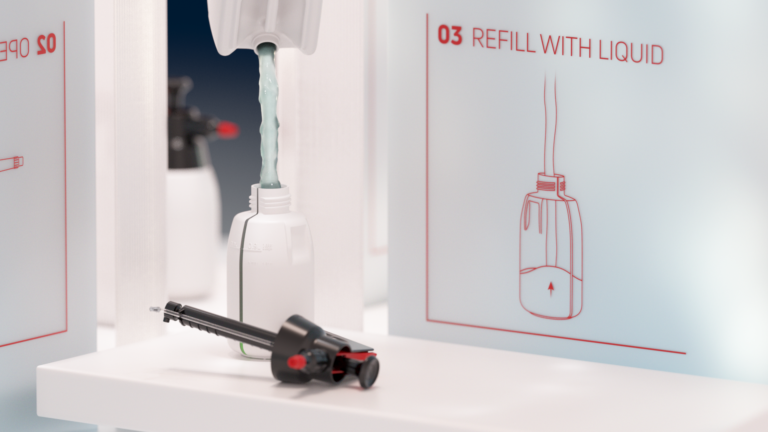 step 4 | Pump & Spray
Securely screw the spray head back onto the bottle and work can begin. The piston is easy to activate manually by pumping: around 30 strokes are ideal. This is how pressure gradually builds up inside the bottle. But don't worry: with our products, safety always comes first. There is a protected pressure relief valve inside the pump mechanism, which limits the pressure in the container to 3 or 4 bar, depending on the model.
Your liquid can be applied conveniently and precisely by pressing the spray button. Some models even come equipped with a continuous spray function or safety button.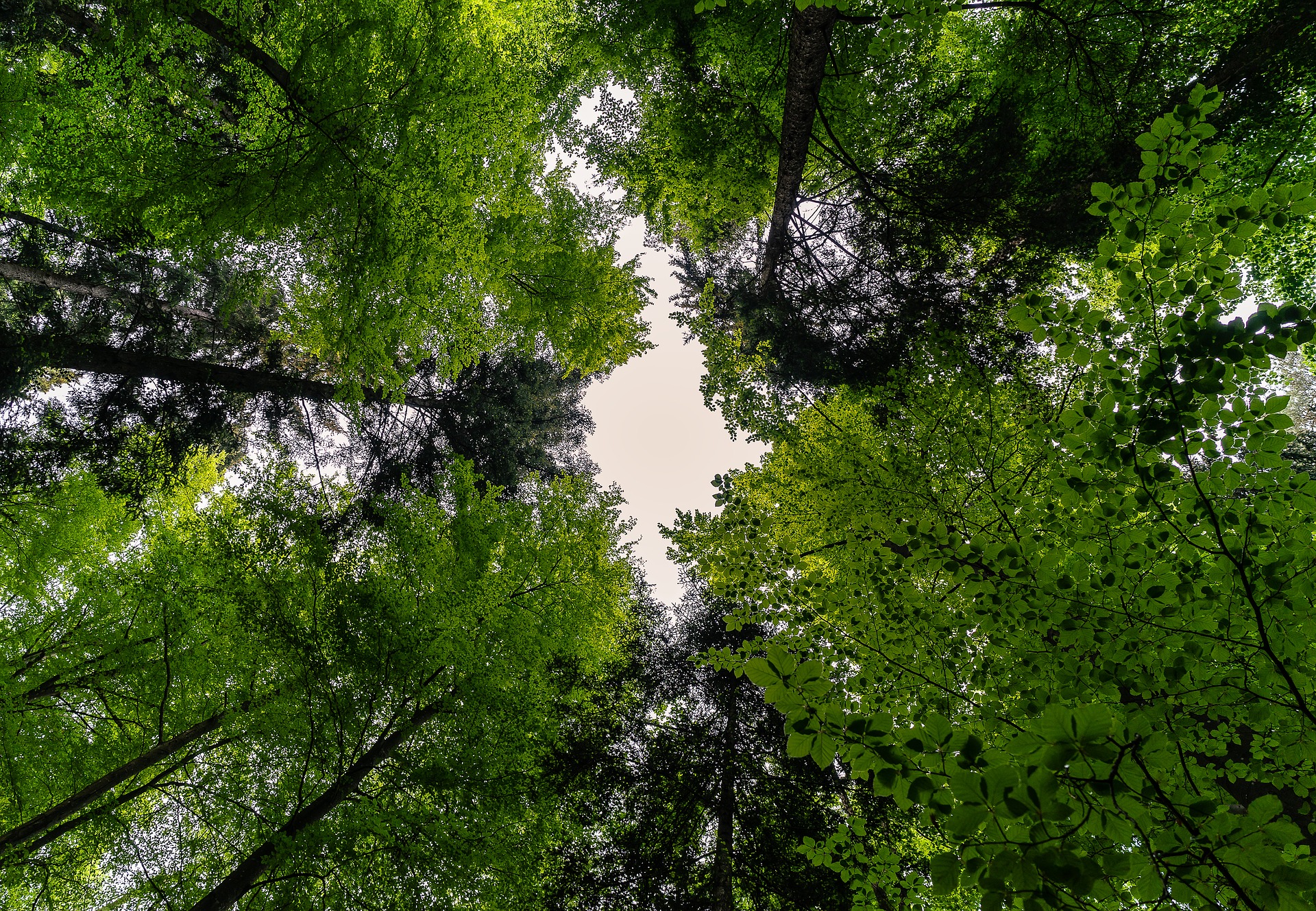 Chemical Application Center
The key to implementing the refill concept is using a sprayer with the correct resistance
Our experienced applications engineers, spray technology experts and Doctors of Chemistry in our in-house Chemical Application Center and the Regulatory Affairs department will advise you and guide you towards the right professional tool. We will test your individual liquid, determine the correct resistance variant and recommend special upgrade and tuning options, e.g. with regard to spray pattern and precise application. To ensure this, we rely on our continually expanding knowledge database – the core of our experience.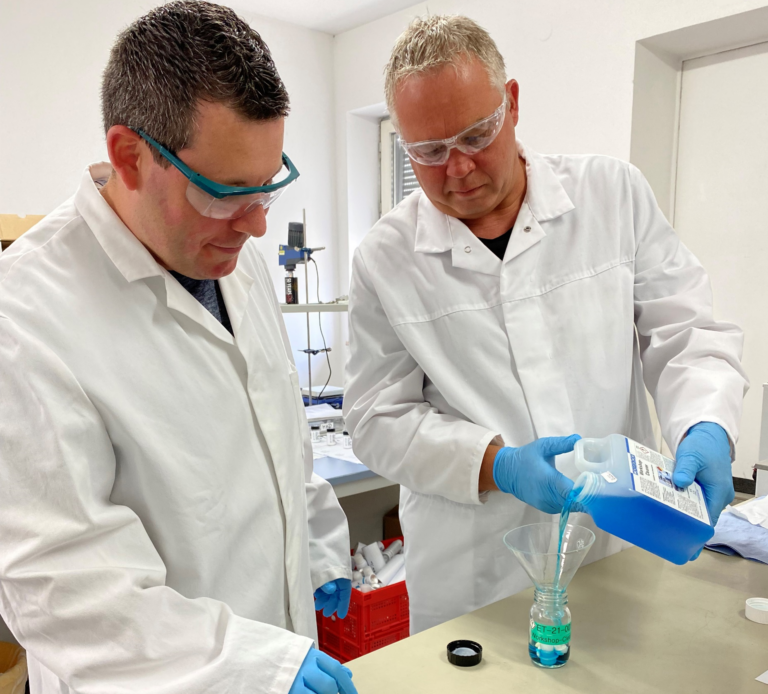 Long product lifespan when used correctly
Due to their durability, our highly reliable professional tools are the ideal companion for professional users – not only in workshops, industry and trade, but also for the home, garden and cleaning sectors.
We are always happy to support you if any problems should arise while using the product.
Simply contact us and our product experts will provide a personal consultation about its professional applications and any issues with resistance.
Below you will find important information regarding the care and maintenance of Kläger Plastik compressed air sprayers in order to guarantee the maximum product lifespan:
Usage
Please refer to the Kläger Plastik user manual that is included with every sprayer purchased from us.
Fill the sprayer with compatible liquids only.
Contact our Chemical Application Center before using an unfamiliar filling to ascertain whether the type of resistance of the container in question is also suitable for the intended contents.
You will find further information about the resistance of the plastic and the seals in our list of resistances and pH scale.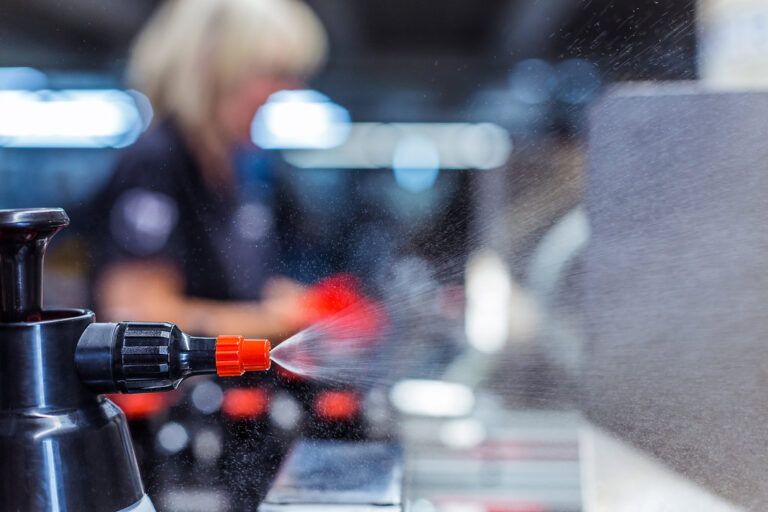 Maintenance
To protect the material of the sprayer, decant any remaining liquid into its original container after use.
Then rinse out the sprayer with clean water or a suitable cleaning agent. Alternatively, the liquid can be transferred to a spare container and sealed with a screw cap. 
Please refer to the liquid manufacturer's operation & safety instructions and safety data sheet.
Our absolutely unique feature: All components of the sprayer are available to purchase from us as original spare parts. Just contact us!
Grease the pump piston O-ring regularly with a suitable lubricant (refer to the symbol on the spray button) in order to ensure a fully operational pump function.
When greasing EPDM seals, use only silicone oil.
We are always happy to advise you about the correct lubricant for your needs.
Please pay attention to environmental influences: protect the sprayer from extremes of heat and cold, as well as direct sunlight. Do not fill with liquid hotter than 30°C.
Use of resources – effective and efficient
Environmental protection is of central importance to us at all stages of the process. We operate and manufacture in ways that are sustainable and forward-looking. In addition to this, we continually implement new technologies in order to ensure even more sustainability in the manufacture and delivery of our products.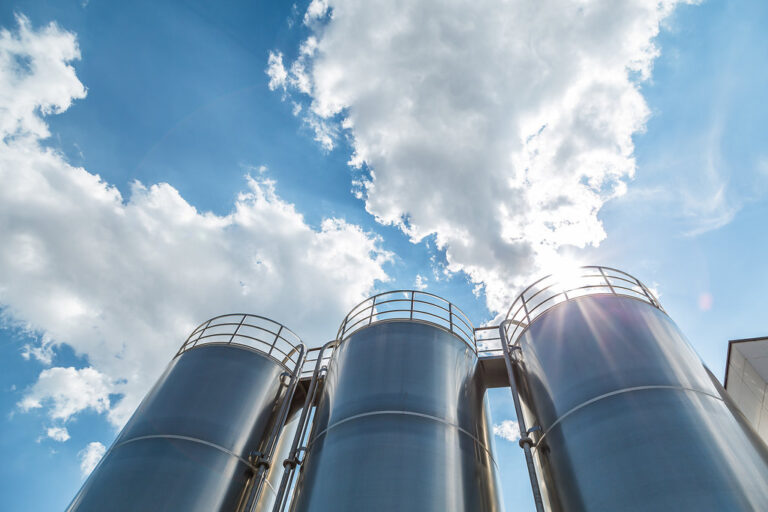 Climate neutral Parcel shipping
Our assigned parcel service GLS delivers all parcels 100% climate-neutrally since 1 October 2019. The CO2 emissions generated by the delivery are not only compensated by a certified project every year, GLS also invests in further sustainable actions.
environmental standard din 14001
At Kläger Plastik, we consistently act in compliance with the requirements of the DIN 14001 environmental management standard. The performance of our management system is regularly evaluated in internal and external audits and serves as a driver for the continuous improvement process in terms of sustainability, conservation and reduction of resources used.
Generating our own electricity
Since 1 January 2021 our entire supply of several million kWh electricity per year has come from renewable sources with energy produced by Scandinavian hydropower. We aim to improve our ecological balance in the future by generating our own electricity using photovoltaic systems.