Quality policy
A range of meetings are embedded in the Kläger Plastik and the Kläger SPC corporate structure for the planning, implementation and checking of specific measures. All resources have to be used consciously and sustainably in order to achieve these business goals. In this context, the following quality principles have been defined as binding, as part of the Kläger Plastik / Kläger SPC quality policy:
Our customers are our top priority. They receive personal, comprehensive support that is tailored to their needs. This begins with the evaluation of those needs through continual dialogue, the development and construction of plastic parts and components, product consultations, manufacture, logistics services and, finally, after-sales services.
To safeguard the market position that we have built up over a long period of time, we demand consistently high standards of product and service quality. We also work to develop forward-looking innovations and improve our processes. This is how we aim to both defend and expand our position among our competitors as a "Made in Germany" premium quality manufacturer and technology leader.
The starting point for maintaining this level of quality has to be motivated, satisfied employees, along with a healthy work climate and attractive working conditions. To this end, our corporate management prioritises social aspects in its dealings with all of the employees. It also ensures that all staff are given opportunities for further education and training as applicable.
In combination with the acquisition of efficient, future-oriented, energy-saving technologies, this ensures a smooth process flow.
Continual improvements in our processes and products increase customer satisfaction and loyalty, ultimately smoothing the company's long-term path to the future. In this way, each individual member of staff contributes to the company's success.
Double certification!
At our sites in Neusäß (Bavaria) and Hartha (Saxony), we work in compliance with the quality directives of the DIN ISO 9001 standard, from development and construction to manufacture, component assembly and goods issue. To do so, we use company-wide CAQ software in addition to state-of-the-art measuring technology – and have done so for more than 20 years.
The protection of our environment is probably the most important task that each one of us and, in particular, each company, has to undertake, both today and in the future. Here at Kläger Plastik and Kläger SPC, we embrace this challenge and act in compliance with the requirements of the DIN ISO 14001 environmental standard. In addition to the classic goal of using all resources sparingly, this standard sets priorities in the fields of legal conformity and compliance.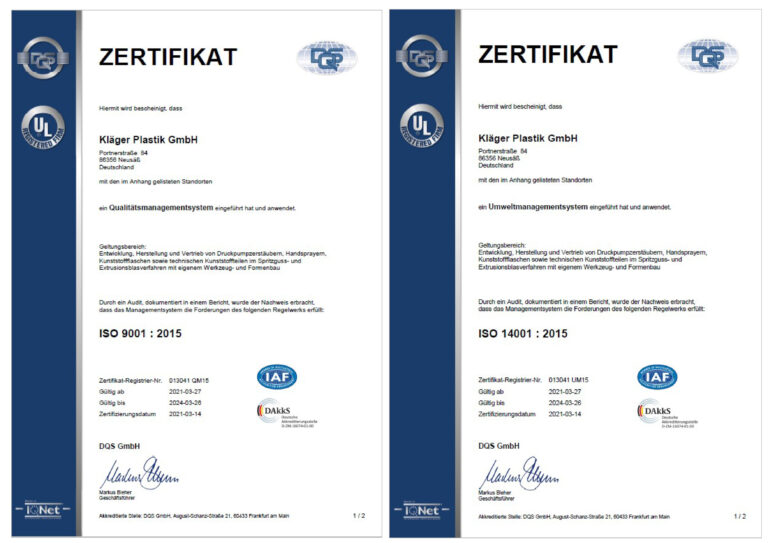 View certificate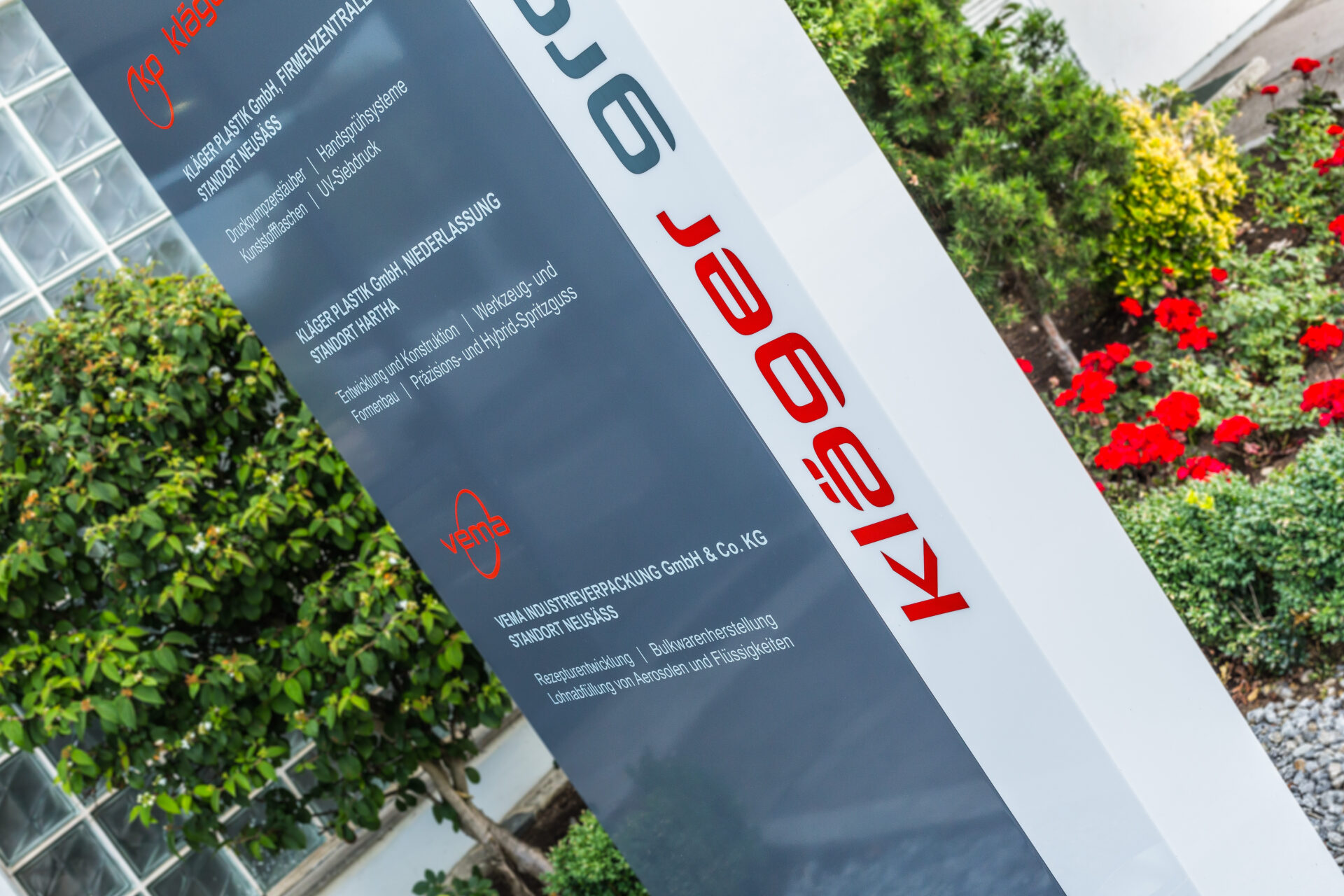 Environmental policy, legal conformity and compliance
The preservation of the environment and our natural world is a subject very close to our hearts. This is why we have made it our goal to systematically drive forward the continual improvement of environmental protection at our company with our environmental management system in Neusäß and Hartha.
In addition to this, we comply with all relevant laws and regulations to ensure the continual optimisation both of environmental protection at our company and, in general, of our processes and products. In order to succeed here, we have defined the following environmental and compliance guidelines on which we base our actions:
To safeguard environmental protection, we have identified and documented the most significant environmental impacts and all relevant processes. These processes are regularly adapted to new requirements and conditions as they arise.
For the continual improvement of environmental protection, we regularly define measurable, workable environmental goals.
Achieving these environmental goals is one of our leadership's responsibilities. Personal role models and a cooperative leadership style help to make our employees more conscious of environmental issues.
Each member of staff has a part to play in achieving our environmental goals. They are all personally responsible and are expected to act according to the specifications in our environmental management system.
It is important to us to include our partners and suppliers in our management system. Our associated specialist companies and partners play a special role, guaranteeing that we comply with the law in all areas of our business. This includes our external specialist for occupational safety, our fire safety officer, our company doctor, our architect, our data security officer (since 2018), who is responsible for digitalisation, data security and data protection, as well as our partner for legal cadastre compilation and updating. Last but not least, there are our auditors, sent from independent institutions such as the TUEV or DQS, who test all areas of the business as part of regular certification.
The performance of our management system is evaluated regularly as part of internal and external audits, and serves to drive forward the process of continuous improvement.
We cultivate an open dialogue with our customers, the authorities and the general public regarding all questions relating to environmental issues.
Neusäß, November 2022
signed Kristian Kläger
Managing Director
Kläger Plastik GmbH
Kläger SPC GmbH & Co. KG