---
What exactly are the CAC's main tasks?
We offer telephone consultations that deal with our customers' individual requirements. If they have a specific enquiry about a filling, we can sometimes recommend certain models of our compressed air sprayers immediately after reading the safety data sheet. In the case of special chemical requirements, however, we also carry out resistance tests. The customer sends us a sample of the filling and we conduct immersion tests and practical trials. By so doing, we can work out which sprayer model best meets our customer's needs and recommend it to them.
How do you ascertain the correct resistance for the customer?
By carrying out immersion and spraying tests, we ensure that there are no leaks in the spray head and that the sprayer is fully functional, enabling the customer's individual products to be sprayed with the best possible results. For the immersion test, all of the technical plastics that we use (including PA, PP, POM, HDPE), along with all of our different seals (FKM, EPDM, NBR, expert FKM and expert EPDM) and springs (V2A, V4A and special springs) are immersed in the liquid that is to be sprayed for at least 14 days in a glass container. After this, we are able to make an initial recommendation regarding resistance. Depending on the chemical and the customer's individual requirements, the materials can be left in the liquid for three to twelve months, in order to draw even more reliable conclusions about the resistance.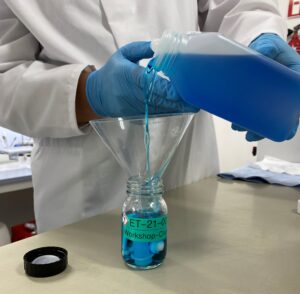 All parts of the different resistance versions of our sprayers and their various materials undergo an immersion test in the customer's liquid for at least 14 days, in order to establish the correct resistance. Our glass container is labelled with an individual product code, the name of your product and applicable hazard warning.
Has there been a change in requirements regarding resistance in recent years?
There have been considerable changes to the chemical mixtures on the market, constantly creating new challenges for us. From an environmental point of view, recycled products are now used as raw materials, as a result of which the mixtures are becoming more and more aggressive, and the resistances are changing decisively. Through many years of research and development to counteract this emerging problem, we have developed new products for our range. The Solve+ professional sprayers from the Masterpiece Line with their high-quality, special seals are resistant to petroleum-based solvents and aggressive solvent mixtures containing a proportion of acetone, special ether, ester and acetate mixtures.  The Acid+ models in the Masterpiece Line are ideal for use with products containing proportions of hydrochloric acid and hydrofluoric acid, thanks to the use of special springs. This revolutionary new product line means that chemicals can now be sprayed that previously defeated even the best materials.
Do you test all types of chemicals upon request?
Yes, but not until the safety data sheet has been checked and after detailed consultation with Dr Melchert, the head of our laboratory. One exception is carcinogenic substances. Since these materials represent a significant hazard for our employees, we do not test them.
To what extent does Kläger Plastik differ from its competitors with regard to chemical resistance?
Above all, our immersion test and practical spray test service is unique, as are our personal telephone consultations. In addition to this, through our decades of experience in the field of pressure sprayers, we offer resistant products made of high-quality materials that are not otherwise available on the market in this form. Moreover, our products are made exclusively in Germany. For us, this is a seal of quality that stands for reliability and sustainability, something that is of great importance to our product development department. With their robust resistance, our products are durable and reusable, thereby making a significant contribution to waste avoidance.
What has been the most unusual customer request you have received?
In principle, all requests are interesting, since each filling liquid comes with its own specific demands.  But one particularly interesting job was the development of a bespoke model for one of our biggest customer's products. At the same time, customer complaints about our competitors' products can also be very instructive, as we can then test the liquids and recommend a suitable product from our own range. Another fascinating request came from a customer who had developed a product for which there was a high demand, but had not found the right tool for spraying it. Due to the development of our Masterpiece Line, our Kläger products have made it possible for them to sell this particular liquid.
You are welcome to get an overview of products suitable for your liquid by taking a look at our list of resistances, along with the pH scale, on our website.
Back to overview