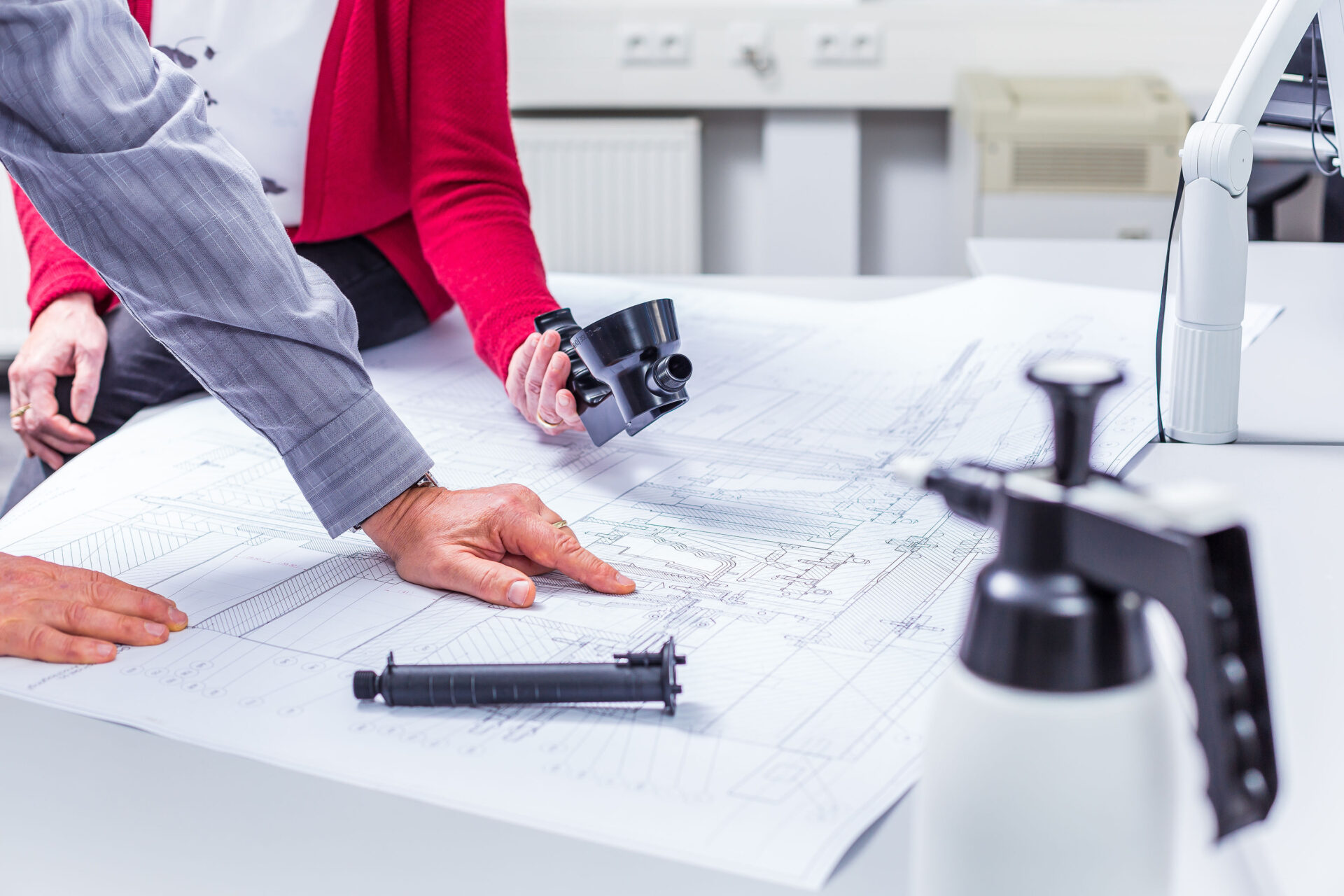 Engineering: development, product design and construction
Every project starts with an idea. Even at the development phase, we wotk at five modern 3D CAD workstations (SolidWorks), in order to visualise and simulate new products and tool concepts as applicable. This is how we guarantee product development that is both suitable for manufacture and cost-conscious, with innovation and know-how that corresponds closely to what our customers want.
In addition to this, we are able to guarantee functionalities and comply with the specifications that have been determined in the specification sheet. Consequently, the component construction and mould design from the essential basis of consistently high quality and process efficiency throughout production. The product gains stature through real engineering.
Services for customers requiring precision components made of high-performance plastics
Design drafts and feasibility studies (e.g. filling simulations)
Carrying out of producibility assesments
Test planning and pre-production testing
Creation of prototypes (in injection moulding or as additive manufacturing in 3D printing)
Systematic optimisation of capacity and follow-on tools in large-scale production
Services relating to spraying systems and plastic bottles
Analysis of the market and competition
Patent research and worldwide tratdemark protection
Creation of product prototypes and function samples
Product development and material selection based on customer requirements (e.g. aggressive liquids)
Basis for every project: Data transfer and data security
Encrypted data transfer (customer-specific interfaces, OFTP2, personal SharePoint)
Data formats (including SolidWorks, Catia, STEP214, Parasolid)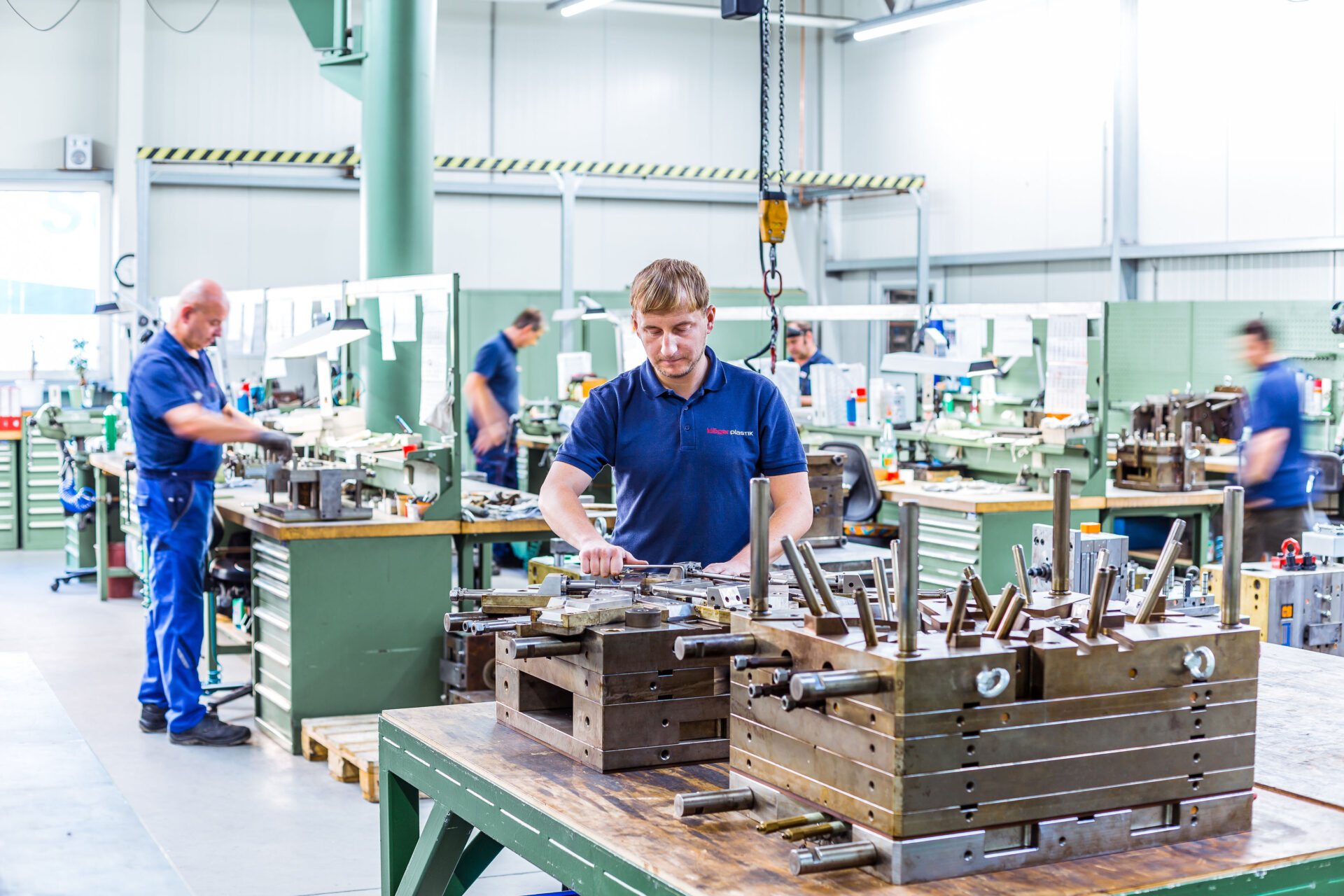 In-house toolroom
Top quality and maximum precision: our tool and mould shop, which runs parallel to our manufacturing processes, has extensive expertise to rely on when it comes to the construction and production, systematic maintenance and repair of all operating equipment needed for production. The items we ourselves manufacture include injection moulds for processing high-performance plastics, and, with our modern machinery, we can also produce bespoke devices that meet the needs of our customers.
We have a reliable network of partners and manufacturing technologies that enable us to realise large-scale projects within a tight timeframe. The combination of these elements are the key and decisive core competence required in order to take on complex challenges in the field of plastic processing.
Machinery
Tool construction and programming
5 CAD / CAM workstations (SolidWorks, Peps, Hypermill)
EDM technology
1 wire erosion machine (GF Evolution3)
1 die sinking machine (Agie Mondo 50)
2 die sinking machines (GF Integral2 and GF Form 3000 HP)
Milling technology
1 NC milling machine (Maho MHC 700)
1 conventional milling machine (Micron)
2 CNC 5-axis milling centres (DMG und Mikron)
1 CNC 3-axis milling centre (Deckel)
1 CNC 3-axis milling and drilling machine (Fehlmann)
2 conventional milling machines (Deckel)
Turning technology
2 conventional turning machines (Weiler)
3 conventional turning machines (Leinen und Tos)
Grinding technology
1 flat grinding machine (ELB)
1 round grinding machine (VEB)
2 coordinate grinding machines (Hauser)
2 flat grinding machines (Jung und Stankoimport)
1 round grinding machine (Studer)
We can manufacture tool sizes up to 750 x 500 mm in our in-house toolroom; larger variants are also possible in collaboration with our external partners. We can move a maximum tool weight of two tonnes.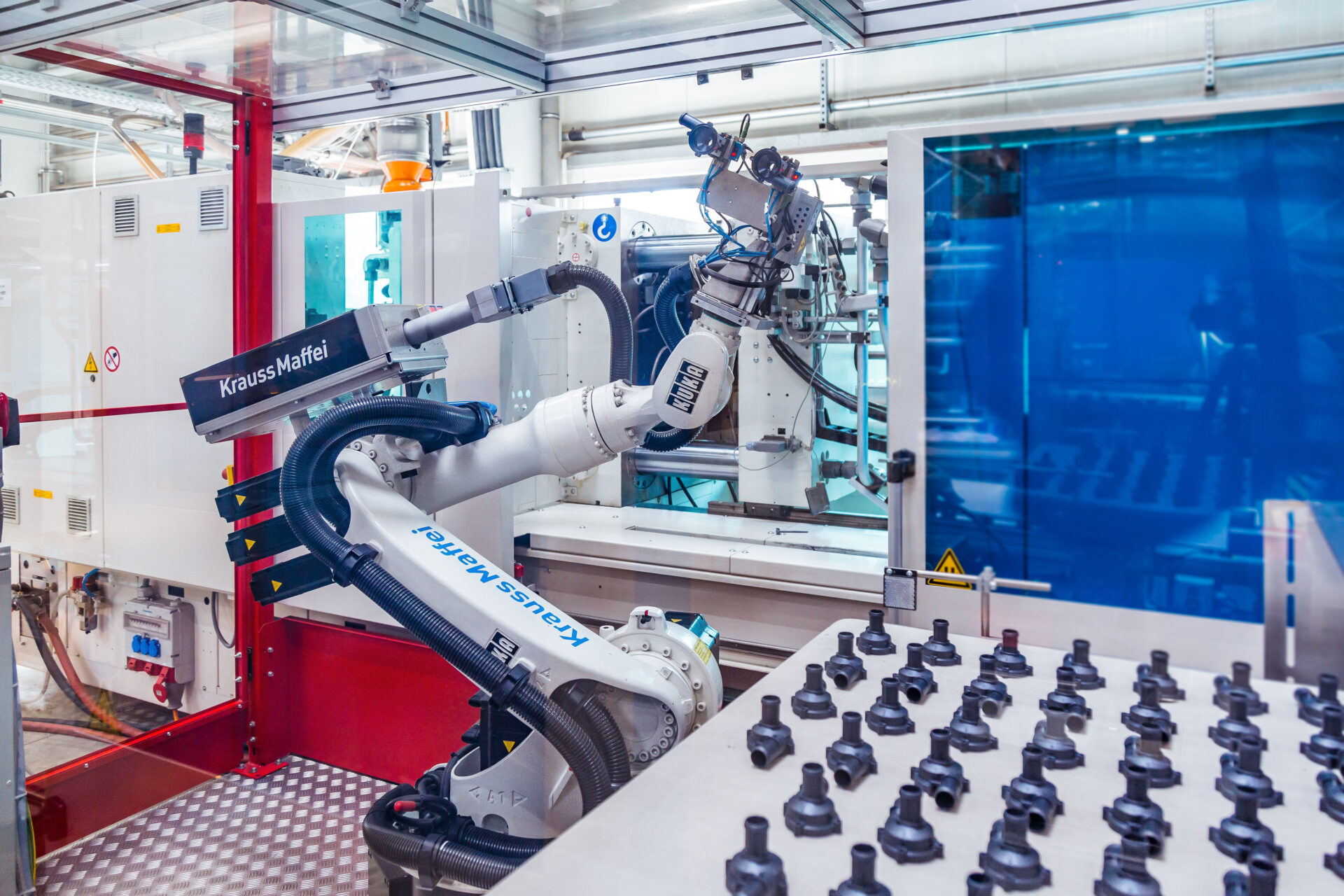 Precision and hybrid injection moulding
Our team of specialists produces sophisticated precision components with a high level of dimensional tolerance and surface consistency on 70 injection moulding machines from the renowned manufacturers KraussMaffei, ARBURG, DEMAG and ENGEL. For over five decades, we have processed plastics such as PA, PP, POM and HDPE. Notably, we have become experts in the injection moulding of the high-performance plastic PPS. We are also able to precisely injection-mould delicate metal inserts such as plugs, axes and contacts (hybrid injection moulding or insert technology).
In this way, we cover the complete process chain from systematic sampling to large-scale production, in order to meet our customers' high quality standards. This expertise makes us one of the most experienced and long-standing partners to the automobile and electrical industries, as well as the consumer sector.
machinery
Horizontal hydraulic injection moulding machines
17 machines with 25 to 50 tonnes of clamping force
43 machines with 80 to 130 tonnes of clamping force
7 machines with 200 to 250 tonnes of clamping force
Horizontal electric
2 machines with 50 tonnes of clamping force
Vertical hydraulic with rotary table (Rotari/Insert)
1 machine with 100 tonnes of clamping force
core expertise in PPS
Kläger Plastik is one of the largest processors of the high-performance plastic PPS in Europe, processing more than 700 tonnes of synthetic granules and manufacturing more than 600 million plastic parts each year.
Core expertise in insert technology
Thread inserts, plugs, contacts or axes are injection-moulded with plastic. This is carried out during the process either manually or fully automatically, using robots.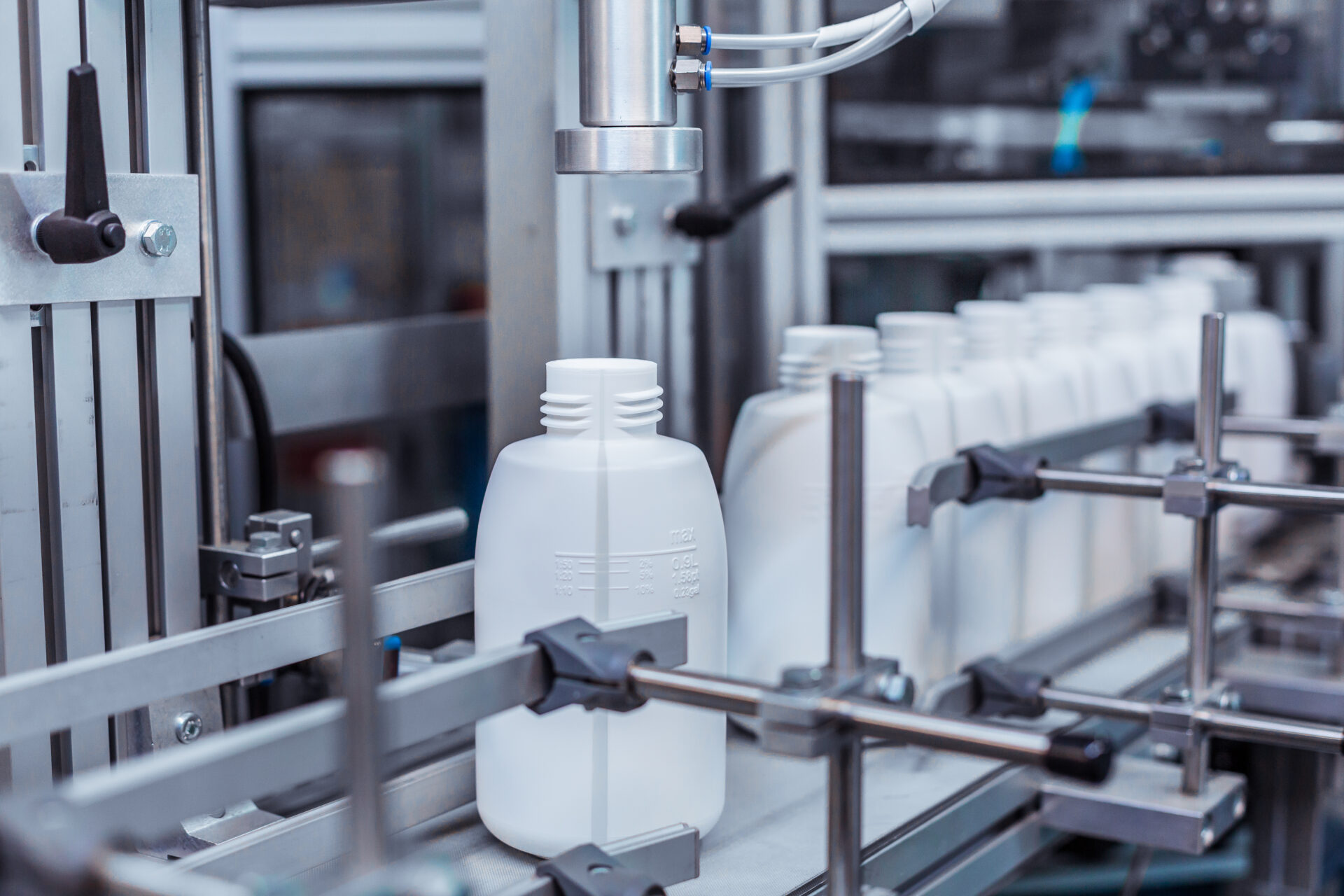 Extrusion blow moulding of HDPE plastic bottles
Two thicknesses: we are able to produce both thin-walled, lightweight HDPE bottles for the packaging sector, and robust, thick-walled containers for our own product line of compressed air sprayers.
These plastic bottles are used in industry, construction and the automobile industry, for cleaning, hygiene, trade, house and garden, and have proved their worth through their high quality and timeless design. A variety of attractively designed bottle types make up a large portfolio for each field of application. We offer an extensive range of cylinder, conical, long neck, square, flat and contour bottles in different sizes, made of HDPE and equipped with the most common thread sizes.
Our customers receive these items individually packed with transparent view stripes, an integrated warning notice, or made of 100% biodegradable plastic. In addition to this, we offer special packaging solutions and compilation of orders. Upon request, you can purchase small or medium quantities directly from the manufacturer rather than through a retailer.
HDPE bottles for the packaging sector, from 20 ml to 1000 ml
A range of thread sizes: 20 mm / 24 mm / 27 mm / 28 mm
A range of bottle weights, depending on requirements
Customer moulds and bespoke bottle shapes
Standard colours: neutral / white | Custom colours available upon request
Special compilation of orders with our in-house compatible reusable sprayers or closures
Custom printing in multi-coloured screen printing or labelling (up to MultiLabel)
HDPE pressure sprayer bottles with a maximum fill capacity of 750 ml to 1800 ml 
Customer moulds and bespoke bottle shapes
Standard colours: neutral / white or custom colours
Custom printing in multi-coloured screen printing or labelling (up to MultiLabel)
Blow moulding machinery (manufacturers: Hesta, Koetke und Automa)
with 17 extrusion blow moulding machines
1 x Hesta HGL, single station, 2-fold
1 x Hesta HGL, single station, 2-fold with transparent view stripe extruder
1 x Hesta HG, single station, 2-fold with transparent view stripe extruder
1 x Hesta HW, single station, 1-fold
2 x Hesta HK, single station, 2-fold
2 x Hesta B51, single station, 1-fold
2 x Hesta HM, single station, 1-fold
1 x Hesta HM, double station, 2-fold with transparent view stripe extruder
1 x Hesta HS, single station, 1-fold
2 x Hesta HS, single station, 2-fold
1 x Automa AT, double station, 2-fold
1 x Koetke TBA, single station, 2-fold with transparent view stripe extruder
1 x Koetke TBA, double station, 2-fold with transparent view stripe extruder
Further equipment
Vacuum system and three silos, each with a 30-ton fill capacity, dsitribution station and material-drying station
Integrated and external seal testing machine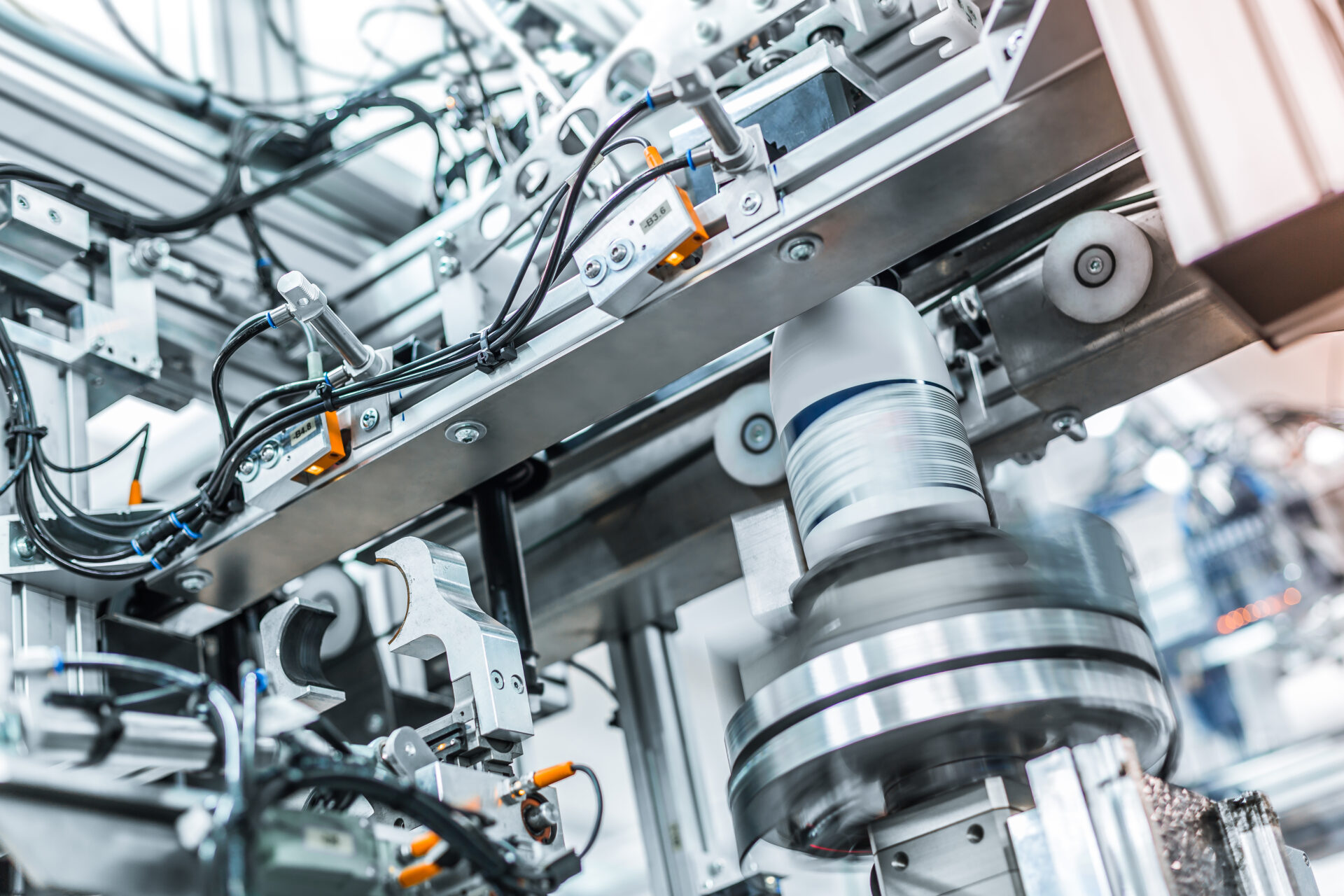 Component assembly & manufacturing automation
We deliver more than just seperate parts – we provide a complete package. We process the plastic pieces into components, either directly on the machine or in downstream production lines. We use a balanced combination of automation and manual assembly workstations, depending on the requirements and complexity involved.
The result: our customers receive ready-to-use components for speedy further processing, and for attractive, marketable terms. This is how we, as a family-run medium-sized business, stay true to the "Made in Germany" seal of quality. After all, this future-looking strategy guarantees consistently high quality and creates long-term process stability.
Several large assembly lines and additional facilities for manufacturing spraying systems
Automation solutions for the manufacture of metal inserts (hybrid injection moulding or insert technology)
Automated sorting upon customer's request
Various robot and automation systems on the injection moulding machines, including for precisely positioned removal (e.g. in trays)
Various automated quality control systems (including optical controls via camera, via vacuum, leak and burst testing systems, weight controls or laser engraving for product tracing)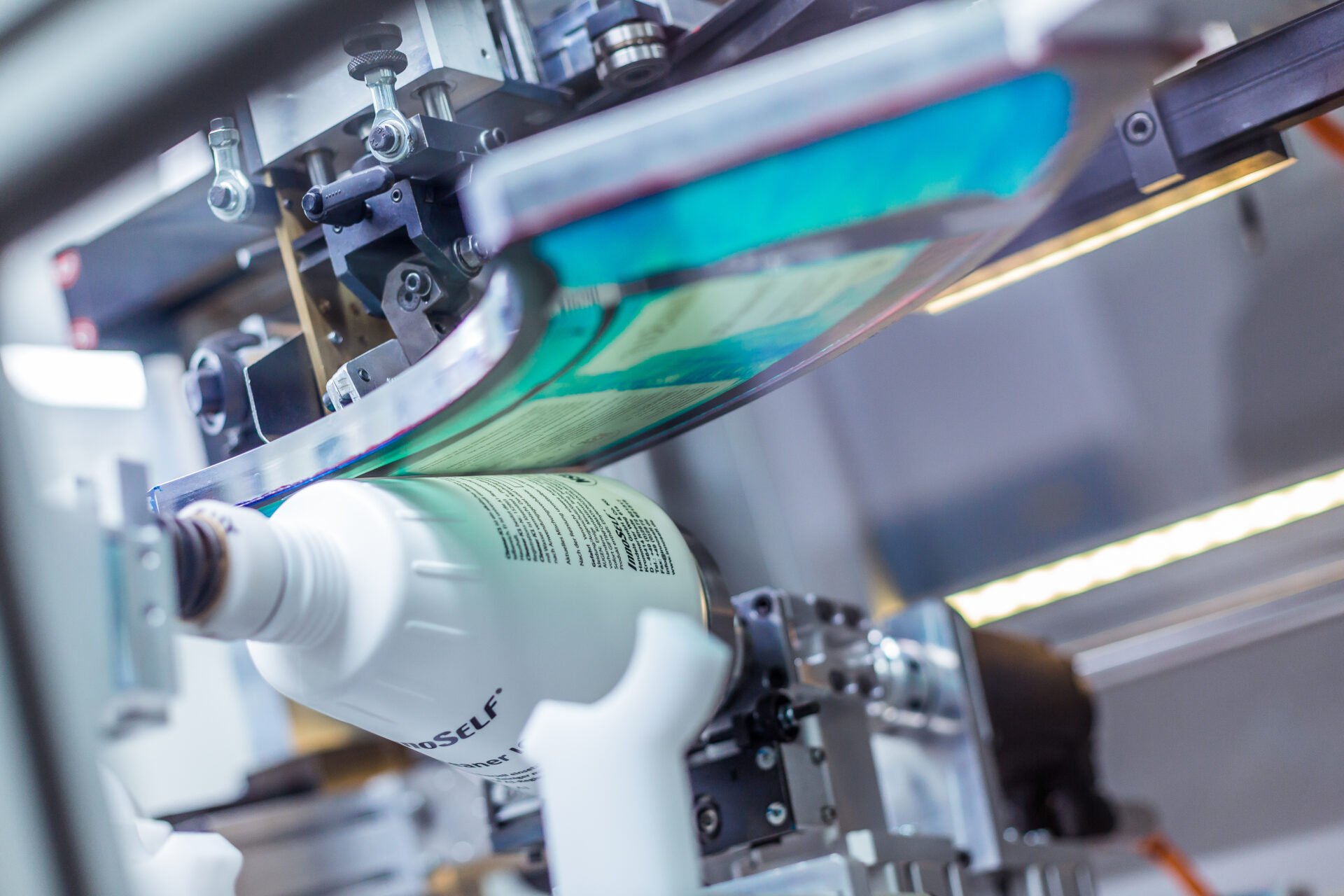 UV screen printing on HDPE bottles
A fully automatic four-colour screen printing machine, along with two linear one-colour machines, allow the use of ultra-brilliant, UV-based printing inks. In this process of decorating the plastic bottles, both thick-walled pressure spray bottles and thin-walled HDPE bottles can be inscribed, finished and labelled. The print itself is highly abrasion-resistant, as well as being resistant to a wide range of chemicals.
The brilliant printed images consist of up to eight individual shades of colour, and can be reproduced photo-realistically even in very small rasters and typefaces (5 pt.). This enables us to make a feature of your corporate design or any required labelling on the products. As technology leaders in the field of UV screen printing, only we can offer such a comprehensive service. We can fulfil virtually all customer requests and ideas, no matter how individual.
machinery
One 4-colour screen printing machine as a carousel machine with colour print image control via camera
Two linear 1-colour screen printing machines
Several semi-automatic printing machines for small batches and samples
further details and highlights
Option of photo-realistic printing (faces, objects)
Haptic printing, e.g. in the form of a raised warning triangle (Braille)
Special QR code und EAN code
Label-look prints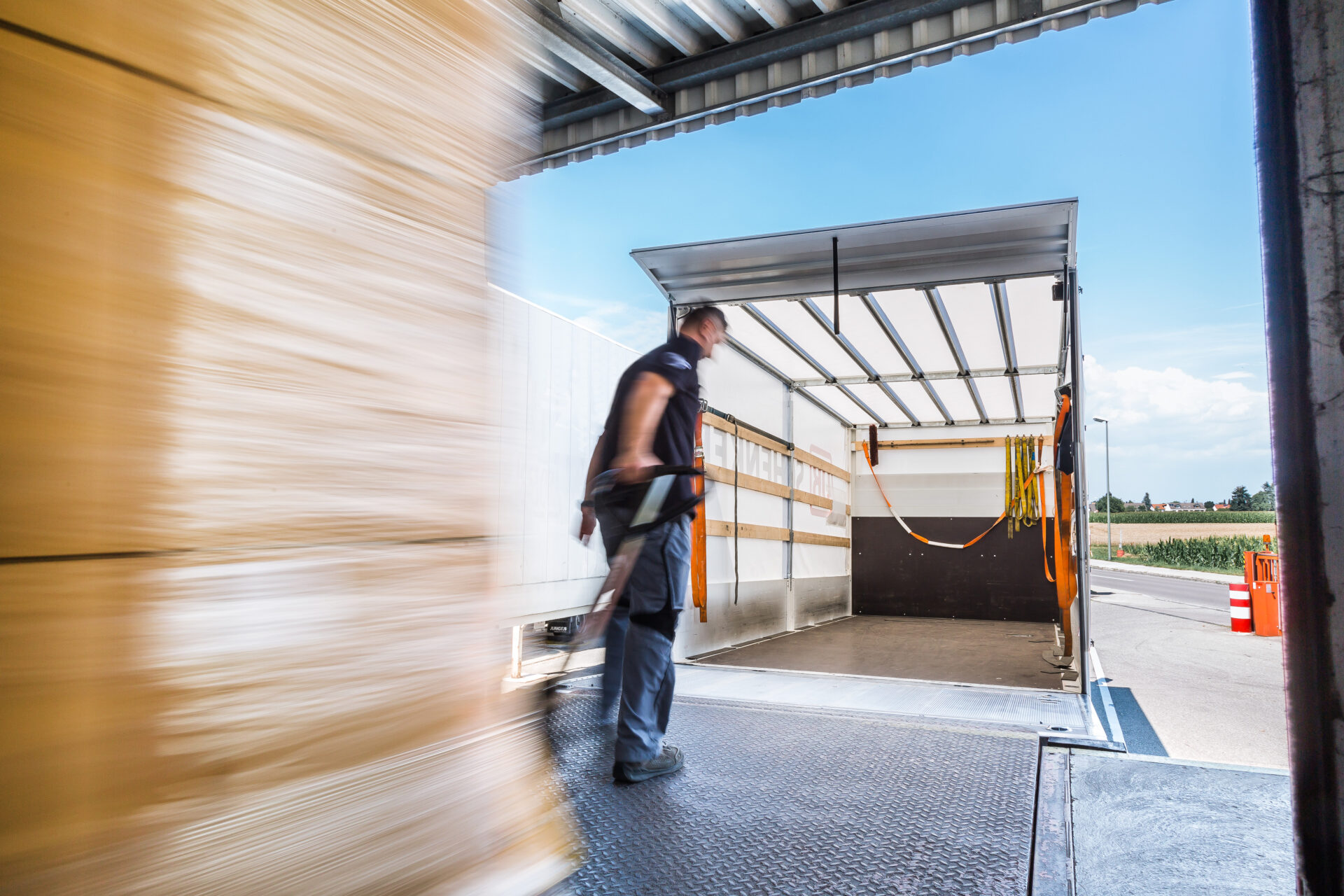 Global logistics & after-sales services
We ship our products throughout the world. To do so, we organise global shipping as sea and air freight, or by road. Currently, Kläger Plastik records an export rate of around 50%, and this is steadily increasing. We have established our largest market presence in Europe, North America, Great Britain, Japan and Australia. The technical precision parts made of plastic that leave our factory in Saxony are exported to destinations as far away as Mexico or China.
As a global exporter, Kläger Plastik has wide-ranging expertise in international trade, including deliveries to consignment warehouses. We can also issue the certification of known consigor for Authorized Economic Operators (AEO) for our customers, and accompany you on your way. This is how we contribute to a smooth shipping process. It goes without saying that we also support our customers after delivery with our comprehensive after-sales services, and are ready to answer any questions they may have about our products.